Personal Touch Products
Minimum Investment: $249
Year Founded: 1989
Overview
Create Amazing Gifts Your Customers Will Love!
Easy  •  Fast  •  Enormous Profits
---
We have been around 28+ years for one reason; our concept is fast, simple and offers our clients a great way to make money. The reality is, everyone loves personalized products. But we keep our concept so easy its crazy. All you need to run it is a computer, printer and software.
Your customer picks their theme and you personalize the paper with whatever name(s) they choose.
Our personalized art makes beautiful gifts for everyone and your profit margins are HUGE.
---
This is not a get rick quick scheme. With more than 2 decades behind us, we know how to help people just like you change you life. We offer you a business opportunity with NO franchise royalties and a system you can work from home. But don't take our word for it – let us send you some free samples so you can try it out before you ever buy anything from us.
---
We know how great our product is and we are so sure you will love it that we offer you FREE Samples via our website.
---
We have a 3 Step Process to prove ourselves to you with no risk or obligation of any kind.
STEP 1 Read our opportunity page for a wealth of information about our compnay, products and the great opportunity for you
STEP 2 Call us NOW Toll FREE at 877-593-1249 and mention "Business Opportunities.biz" for FREE Sample or visit our website by clicking the image above. 
STEP 3 Show your Free gifts to trusted friends and family & ask they would consider buying them. We already know their answer but we want you to see for yourself.
That's usually all it takes: In fact, many of our new customers call asking how long it will take to receive their start-up kit because they already have orders after showing their sample gifts to others! Yes, before they've invested one penny!
---
---
A FEW MORE OF OUR GORGEOUS BACKGROUNDS TO PERSONALIZE: (We offer hundreds of designs)
---
---
PROFIT POTENTIAL
Our Products Receive HUGE Profit Margins – up to 4000% and you pay no royalty so you keep ALL your profits. 
Here's One Example of the type of money you can make with this business opportunity:
Create a beautiful Personal Touch family gift with a thoughtful family poem and the first names of every family member.
Suggested Retail: $20.00+ (without a frame or mat)
Your Cost:    50 cents
Your Profit:  $19.50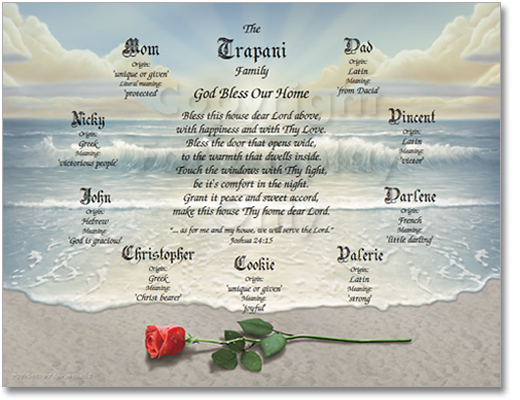 ---
We have a Gift Idea for Every Occasion:
Father's Day
Mother's Day
New Baby
Babies Christening
Birthday's
Hobbies
Sports
Dog Lovers
Cat Lovers
Horse Lovers
Animal Lovers
Army, Navy & Military
New Home
Weddings
Showers
Special events
Child's name
Child's room
Family Tree
Valentine's Day
Graduation
Bereavement
Memorials
Friendship
Special People
Holidays & Special Occasions
Brothers & Sisters
Inspirational
Anniversaries
Thank you
Get Well
Recognition
And so many more
---
 5 GREAT Reasons to Consider This Opportunity:
Earn real profits from 300% to 4000% (yes, really!)
No royalty or franchise fees (You keep all of your profits)
Simple process typically takes 2 minutes (using your own computer)
Extra income or full time opportunity (grow if and when you're ready)
Work with a trusted company celebrating 25+ years in the gift industry
---
---
 20 Key Benefits Just for You:
♥ Enormous personalized gift market
♥ Gifts in demand year round
♥ Low start-up cost
♥ Personally rewarding
♥ Appropriate gifts for everyone
♥ Takes just 2 minutes
♥ Includes English and Spanish Versions
♥ You choose your own hours
♥ Home based or retail (we teach you everything)
♥ Proven money maker
♥ No expensive equipment
♥ Enjoy what you do
♥ Provide a much needed service
♥ Start part time and grow at your own pace or start out full time and go big – you choose
♥ Unheard of return on investment (4000%)
♥ No royalty or franchise fees EVER
♥ Free lifetime support and training
♥ Toll-free order line
♥ No fluff, hype or pressure – just a great business opportunity
♥ A Quality company with a 25+ year track record for success
---
Call NOW 877-593-1249 & mention 
Business Opportunities.biz for your FREE gift.
---
Here are just a few of the BEST places to sell Personal Touch Products – keep in mind there are many, many more.
Open a website
Sell on Amazon, Ebay, Etsy and other handmade sites
Place an ad in the back of a magazine
Malls: Inline stores, carts and kiosks
Swap meets & flea markets
Antique malls (set up a display so customers place in-store orders & you can deliver finished product next day)
Mommie & me classes
Kids birthday parties
Christian bookstores
Pet stores & Veterinarian offices
Hospitals vendor & gift shops
Weddings and social gatherings
Baby stores & shops
Hair salons & beauty shops
Flower shops & funeral homes
Churches & church bazaars
Craft fairs, county fairs, farmers markets, special occasions or any place people gather
Sporting events
Gift basket insert
Military bases
Fund raisers for schools and organizations
Home parties & family reunions
Friends, family, neighbors and co-workers
---
---
 Here is an overview of a typical sale to create a name meaning gift:
Your customer selects any art background from your "Master Art Book."
Using the Gifts on Art software, you will select art background, and it will display on your monitor.
Search for your customer's Name, and it will display right on top of the art background ready to print.
Add a sentiment if desired.
Insert the pre-printed Personal Touch "art background" into your printer and press the PRINT button.
That's it! Your Personal Touch Gift is complete and ready for framing! If you are comfortable with any word processing program, you will be creating gifts within minutes of installing your Personal Touch software!
---
So what is the Best Selling Item?
First Name Meaning Gifts are by far our most popular selling items. With our software you can create first name meaning gifts for every name in the world!
Everyone appreciates seeing their names in print and that is what makes these the perfect gift for everyone. Personal Touch has taken the first name gift concept to its ultimate potential. Using our "Gifts on Art" Software, you will be armed with the most flexible, easy to use, feature rich and highest quality personalized names program available.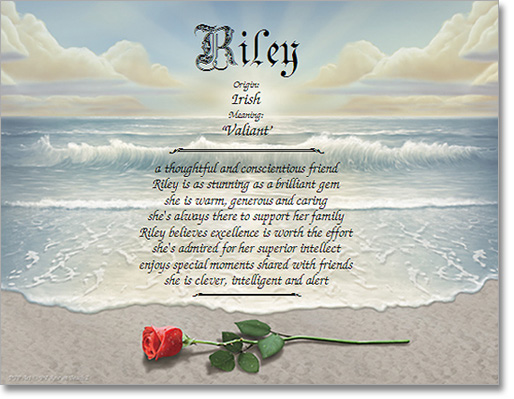 You will be creating priceless family gifts that will be treasured forever.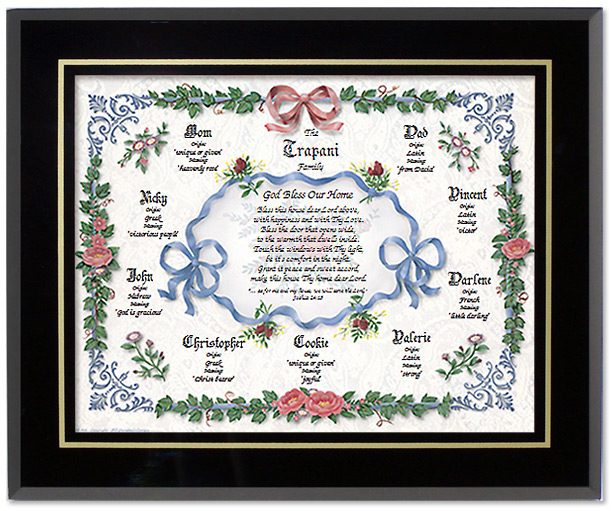 ---
Read What our Customers are Saying About us
Hey John….
Despite gas being as high as it is, the economy in shambles or so the experts say… the bottom line is that our product sales from Sep.18th to Oct.12th; with only 14 days of selling we sold $10,309.72. Before we bought your program my husband was a builder I was a stay at home Mom and we never got anywhere with our finances, it was hard to get by. Now we are doing quite well we are not rich but we have what we need and want without relying on credit to pay for it.  We work for ourselves set our own hours home school our kids and have fun doing it. We thank you for creating such a great money making product. It has definitely changed our lives.  Thanks a million for being such a great person
Violeta & Jeff
Hi John,
 Just wanted to say how much I appreciate your taking time to talk with me and offer suggestions to make my business fruitful. This past  weekend, I displayed my product at a large craft fair and was awed with people's reaction to the product. Not only did I have a great weekend  (took in close to $1000 for two 6-hour days  – when no one else had any customers) and had the opportunity to meet new people. People      were inquiring what shows I would be doing next so that they could follow me.  Today, I had a call from one of the teachers at our local school  that I made some prints  for, and she asked me if I would be willing to do a few home parties – YES, YES of course I will ! I was thrilled to be  asked. Then our local church asked me to do a Pastor appreciation plaque for this weekend –  and the stories go on and on!  Thank you so much for not only offering a terrific product, but also for all the support and encouragement.
God bless, Jo Ann
To read more Testimonials CLICK HERE
---
 A message from the Company Owner
If you're at all like me, you've researched dozens of opportunities in the past, and maybe even tried a few that made false claims and promises that you hoped, but intuitively knew could not live up to their promises. First of all let me say right up front that we do not fall into that category. In fact, as the owner of Personal Touch Products I set the tone for my company, and you will come to see that we are more likely to under-promise in our desire to exceed your expectations than over-promise something we cannot deliver. With that in mind, I ask is that you do your due diligence by reading the entire "opportunity" page, after which I can assure you that you'll have all the knowledge you'll need to determine if the Personal Touch Opportunity is a good fit for you. Feel free to call or email me personally with any questions.
Join us as we reach out to the world with our thoughtful and encouraging personalized keepsakes!
 To your ultimate success, John Trapani
Visit our Website HERE and order your FREE Sample or Call 877-593-1249